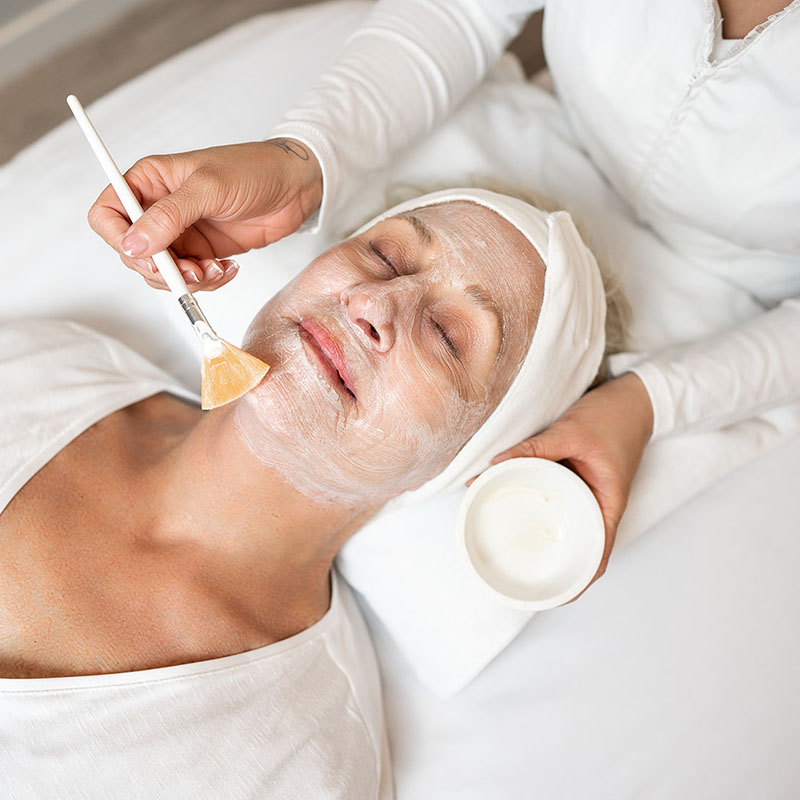 Bloom Signature Facial
All Skin Types |
Dry/Compromised Skin, Anti-Aging, Sun-Damage, Acne, Rosacea/Sensitive
Starting at $95+ | 55+ min.
The Bloom Signature Facial is our staple facial, personalized to each individual's skin type. Our advanced Aestheticians will begin with a thorough skin analysis and consultation to determine which facial treatment is desired, along with providing product knowledge for at-home care to maintain and achieve the best results and skincare goals.
Each facial includes deep cleansing, extractions, customized exfoliating and hydrating masks, finished with moisture and sun protection. For an added treat: a relaxing hand, foot, face and neck massage are added to most facials to compliment your Bloom Skin & Beauty experience.
SIGNATURE express
All Skin Types
$45+ | 30 minutes
Similar to the Bloom Signature Facial, the express facial will cover most skin concerns in a convenient time. A skin analysis, cleanse, massage with steam, and mask customized to your skin type will be applied. Great for an on-the-go Refresher!
GENTLEMAN'S FACIAL
All Skin Types
$85 | 55 min.
Geared for the specific needs that men have, this facial includes deep pore cleansing, hot towels, exfoliation, a customized mask, and hydration. Help to repair the damage caused by daily shaving, skin sensitivity, dullness, aging, and the environmental impact of both city and outdoor living with this therapeutic treatment. Ideal for men who like to look and feel their best, the experience ends with a relaxing neck and shoulder massage, hand or foot massage, as well as skincare advice on how to prevent razor burn and care for skin on a daily basis.
Pro Youth – 10 facial
Anti-Aging, Sun Damage, Dry/Dehydrated
$125 | 60 min.
Are you looking for the "Fountain of Youth"?
Created to partner with Rhonda Allison's Minus 10 Youthful Skin Collection, this corrective facial is all about infusing the skin with actives that will stimulate, repair, and rejuvenate skin. Actives that will firm and tone – communicate to cells to produce more collagen and give skin a luminous glow.
Stimulate Energy and Cell Communication
Increase Cellular Turnover
Replenish Collagen, Elastin, Antioxidants and Lipids
Repair Glycation, Cellular Dysfunction and DNA Breakdown
This is an elevated facial that brings some acids into the treatment, showing some tips and tricks and little twists from the standard facial progression that will enhance the facial experience. This facial may be done as a series program every 2 weeks for 3 sessions or once a week for very challenged skin.
BACK FACIAL
$40 | 20 min.
Back facials can be beneficial in cleansing those tough-to-reach spots, targeting a variety of skincare needs such as clogged pores, back acne, and dehydrated skin. This treatment mimics many of the traditional techniques used while performing treatments for the face, and incorporates deep cleansing, extractions, and purifying masks. Back facials are particularly fitting treatments during bathing suit season or for people who wear low-back attire.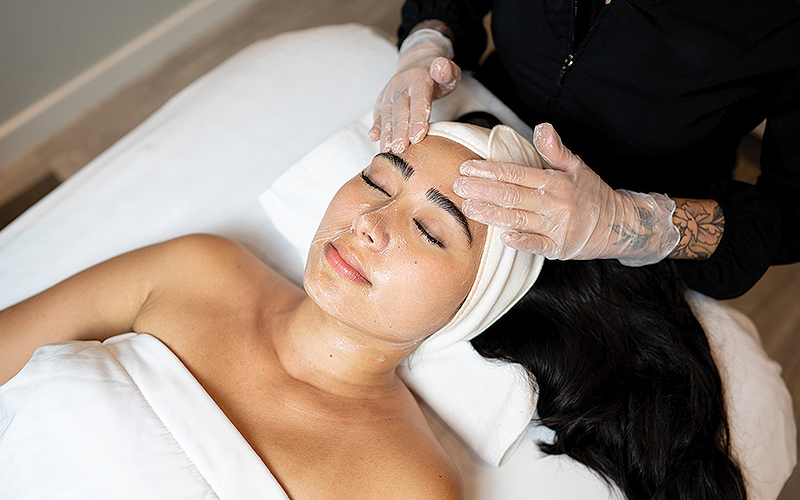 TEEN FACIAL
Problematic, Acne Skin
$45+ | 30+ min.
Give teens quick, effective support with a thorough deep cleanse and extractions for a potent skin-clearing treatment. Throughout the facial products infused with green tea will be used for antibacterial and calming support. Product knowledge and education will be given for an at-home regimen, to maintain the treatment results and keep skin clear of breakouts.